The 2021 Subaru Love Promise Customer and Community Commitment Award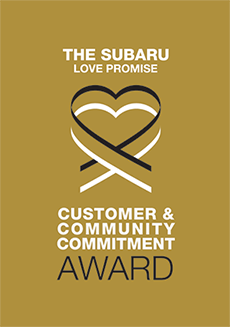 We've been nationally recognized for our dedication to our customers, our community, and the Subaru Love Promise.
We're honored to receive the 2021 Subaru Love Promise Customer and Community Commitment Award. This award nationally recognizes elite Subaru retailers who provide an exceptional customer experience at every interaction with Subaru. These retailers have also demonstrated an outstanding commitment to supporting passions and causes in their local communities in important areas such as the environment, community, health, education, and pets.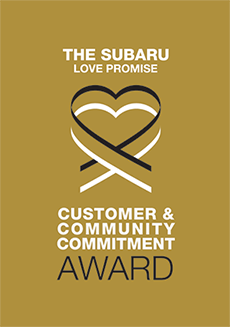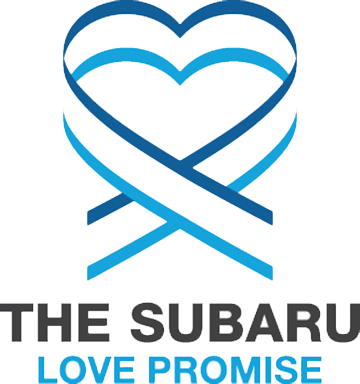 What is the Subaru Love Promise?
Subaru and our retailers believe in making the world a better place and the Subaru Love Promise is our vision of respecting all people. This is our commitment to show love and respect to our customers and to work to make a positive impact in the world.
How is Brandon Tomes Subaru dedicated locally to the Love Promise?
Our dealership is committed to serving and continuing to share the love by sponsoring and participating in local charities such as Meals on Wheels, pet adoptions, and other charitable events that we have the opportunity to be a part of.
ASPCA, Collin County Animal Shelter
Samaritan Inn, Meals On Wheels
Love Promise Stories from Brandon Tomes Subaru
Subaru and Brandon Tomes Subaru believe in making a positive impact on the communities in which we live and work. We uphold that belief through our Love Promise Community Commitment. Every month, we select inspiring stories from customers and partners from around our area who strive to support our collective commitment and feature them here
Free Food Giveaway: Share The food - TJ M
In McKinney, Texas, Brandon Tomes Subaru partnered with our organization, Community Lifeline Center, in distributing food to over 100 households on June 22, 2021. The North Texas Food Bank and the McKinney Police Department joined us at the dealership in the morning, and by that afternoon, over 9,000 pounds of food went out to families in need. This effort was a part of our continued commitment to supporting people in our local community in crisis. W.E. Fowler, Brandon Tomes Subaru's Community Outreach Director, informed me that this event was the second food giveaway they have done in less than a year. It is clear their passion for helping the community is sincere and it has not waned. There was a line of cars waiting when we began the contactless food distribution on Tuesday morning. 20 dealership volunteers, including Mr. Bob Tomes and his wife, Barbara, along with Brandon Tomes, served fresh, perishable, boxed meals from morning until noon. Also in attendance was Subaru of America regional employees and officers from the McKinney Police Department. Along with individual households, two truck-loads of food went to the Holy Family School, a preschool in McKinney, Texas, dedicated to providing a safe, loving environment for children of all backgrounds. The pandemic continues to recede; however, our neighbors are still in need. Recently, The North Texas Food Bank reported that the COVID-19 pandemic continues to impact hunger in North Texas. "Over the past year, food insecurity among North Texans has increased by 25 percent. This statistic reflects a significant rise in those seeking food assistance for the very first time – approximately 40 percent of those served by the organization since the start of the pandemic. Almost 900,000 North Texans now face immediate and sustained food insecurity. "Community Lifeline Center has helped individuals and families for over 30 years. Our purpose is to guide residents in crisis back to self-sufficiency and independence by providing resources, information, and referral services to McKinney and Collin County residents. Brandon Tomes Subaru's support is invaluable to our mission! Thank you once again for your generous contribution, and we look forward to continuing our partnership in the future.
---
Alliance of Elite Youth Leadership Sponsorship - Derrick R
Dear Brandon Tomes Subaru, We at the Alliance of Elite Youth Leadership (AEYL) cannot thank you enough for your recent donation of $3,000 and your choice to begin this partnership with us. Without supporters like Brandon Tomes Subaru, our program wouldn't be able to flourish in its current capacity. We're so excited to get started! With the sponsorship of our new Educational and Workforce Training Lab, we will be able to furnish it with desks, chairs and storage cabinets. This room will be an integral part of our program by providing the vast community; which includes minority and underrepresented young adults with workplace readiness training. They will develop computer skills, conduct career assessments, academic prep for ACT/SAT exams, build resumes, and receive job application assistance. With your invaluable sponsorship, the youth in our program will have the guidance and encouragement to become an outstanding member of society – and maybe have a fulfilling career at Brandon Tomes Subaru one day! We want you to know how much your sponsorship means to AEYL! McKinney, Texas hometown supporters like you help us create a local diverse workforce by empowering youth and young adults with self-esteem, confidence and accountability. Derrick and Ceretha Robinson, Founders of AEYL!
---
Share The Love 2021 - Zack A
The "Share the Love" event results are in and the checks have been delivered! This year Brandon Tomes Subaru chose to support two local charities to be the recipients of our Share the Love donations. The Samaritan Inn of McKinney and ManeGait Therapeutic Horsemanship each received $30,000.00 checks! Brandon Tomes Subaru has supported The Samaritan Inn for over ten years and this year's check will help support hundreds of our homeless as they strive to better themselves. This marks the third year Brandon Tomes Subaru has supported ManeGait and with this donation several special needs children and adults will receive a well-deserved ManeGait, scholarship. "Share the Love" is a Great way that Brandon Tomes Subaru can support the wonderful charities in our community. We look forward to future initiatives with both The Samaritan Inn and ManeGait.
---
"Earth Month" at Brandon Tomes Subaru - Will O
April is "Earth Month" at Brandon Tomes Subaru. Earth Day, April 22, is a celebration of the beauty and life-sustaining bounty of our natural environment. On Earth Day we reaffirm our responsibility to protect Mother Earth for future generations. The BTS team feels that it is our responsibility to help protect Earths natural wonders, so we are celebrating Earth Day all month long! Our sales and service team presented every customer with a potted plant to reminded them of the importance of conservation and sustainability. Brandon Tomes Subaru teamed with Hugs Greenhouse to supply over 1,000 plants for the Earth Month celebration! Hugs Greenhouse is a non-profit that empowers adults with special needs to change their lives for the better. Recycle bins in our showroom for our customers, a certified Green facility, and a recycle program for used air filters in our service department are a few of the ways we help protect our earth year-round. Thanks to Brandon Tomes Subaru's "Earth Month" the BTS team and our Great customers are a little bit GREENER!
---
Brandon Tomes Subaru free food distribution event - Arthur H
Brandon Tomes Subaru in McKinney, Texas and the North Texas Food Bank partnered to offer support for families in need. The COVID-19 pandemic continues to have a devastating impact on McKinney, Texas, and the surrounding area's health and economic well-being. Many neighboring communities have been hard-hit by illness and unemployment and still need support. To provide much-needed relief, Brandon Tomes Subaru hosted the North Texas Food Bank drive-thru Mobile Food Pantry on March 3, 2021. This free, drive-thru service is available to all community members in need of support as the pandemic's economic impact continues to cause food insecurity. In the early morning, a semi-tractor-trailer arrived, loaded with pre-packed boxes of food. Brandon Tomes Subaru employees, NTFB volunteers, and Texas Military National Guard members quickly set up the Mobile Pantry for distributing food in a seamless and fully contactless process. Some BTS employees directed traffic into the dealership parking lot, while other employees and volunteers helped load boxes of food in the trunk of vehicles. Marisela with the North Texas Food Bank commented that this was the first time NTFB held an event at a car dealership. "They were so well organized, helpful and hard-working. The large number of dealership volunteers was so impressive, and we look forward to having another event with Brandon Tomes Subaru very soon," said Marisela. Many food recipients expressed their gratitude and shared their stories with Brandon Tomes Subaru employees. Bill and Linda came with their four children and drove away with eight boxes of fresh food. "Because of the pandemic, I had to quit my job to take care of the kids, and Bill's income is smaller. Food for the family takes a huge bite out of our monthly income," said Linda. Each BTS employee provided cheerful service to clients while hustling to serve everyone promptly. Towards the end of the event, Joseph Vargas, a BTS employee, saw that there might be some boxes of food leftover. He asked if he could take some food to his mother, who runs a daycare center in town. "We loaded a new Forester with 20 boxes of food and delivered it to the center," said Joseph. "Mom told me the food fed all of the kids for days, and it was a real blessing when her finances are so tight." Another example of people receiving food indirectly from the event came from one of the McKinney police officers directing traffic. Officer Bruno told Brandon Tomes about a local family who recently lost everything in a house fire. Brandon insisted that the family needed to receive some food boxes, so he loaded the officer's squad car. "That was enough food to last the family for a month," said Officer Bruno. Brandon Tomes Subaru regularly partners with the Samaritan Inn, a homeless shelter in McKinney. Wilson Fowler, General Manager of BTS, saw plenty of food to go around, so he made a last-minute call to the shelter. "I received a call from Wilson Wednesday morning, and he told me about their free food event. He then told me that it was over at noon and looked like they were going to have some food leftover and did the Inn need it," said Rick Crocker, director of the Samaritan Inn. "I sent our refrigerated box truck over ASAP. The truck returned with four fresh food pallets, enough to feed all of our residents for a week. Brandon Tomes Subaru supports The Inn yet again. ""I was shocked to see an 18-wheeler full of food and didn't know how we were going to distribute it all," said Brandon Tomes. However, he was relieved to see over 50 cars waiting in line an hour before the start of the event. Within four hours, 400 families and a few indirect recipients had fresh food for their families. Brandon continued, "We are so proud to work with our community partners to fight hunger and provide fresh food to those who need it most. Our 'Love Promise' is to keep sharing the love in our great community."
---
Beds for the Homeless! - Kelly E
McKinney Texas has a growing homeless population. The local Salvation Army started a program to help the homeless during these cold winter nights. Texas weather serves up many cold nights and people with no place to stay are exposed to the freezing elements. When the overnight temperature is forecast to be 32 degrees or below the Salvation Army opens their gymnasium to provide an overnight warming station. Their air-up beds were showing age and the 25-bed inventory was not enough to handle the 30 to 50 homeless that show up. Brandon Tomes Subaru called and ask, "what can we do to help?". More beds and more pillows were the answer. The BTS Team showed up the next day with 35 new air beds and 35 pillows. The timing was perfect! The next6 nights proved to be record cold overnight temps with lows in the teens and even dipping below zero for two nights. Local people in need are helped yet again by the Love Promise Team at Brandon Tomes Subaru.
---
Last minute toy donation - Wilson F
The Collin County Children's Advocacy Center reached out to Brandon Tomes Subaru this week with a plea for help. The Centers annual "Holiday Project" is next week and they are short on gifts for the over 800 children that are treated at the center. This year's pandemic has greatly diminished the number of donations received for the event and time is running out. Each year the Center treats all the children with a book, 2 toys, and a new outfit of clothing. Last year BTS delivered the Center over 1,000 pairs of new shoes, so helping out with this year's Holiday needs posed no problem. The BTS team went into action and gathered up 2 Subaru's FULL of books and toys. The 150 books and over 200 new toys helped the Center fill this year's last-minute need for gifts. Each year, more than 4,500 children are reported as abused or neglected in Collin County. Through the services provided at the Collin County Children's Advocacy Center, these children are able to find safety, healing, and justice. Brandon Tomes Subaru will continue giving back to our community especially when we find that we can help our children.
---
Solving our transportation needs! - Tressie J
The staff and residents of The Samaritan Inn in McKinney, Texas, are eternally grateful to Brandon Tomes Subaru for the amazing gift of a 2021 Subaru Crosstrek. The Samaritan Inn is a residential homeless program that houses men, women and children and provides supportive services through their journey back to self-sufficiency. What a blessing it was to receive this gift from Brandon Tomes Subaru. It came at a time when our residents needed it most. We lost one of our transportation vehicles due to a car accident and it greatly hampered our ability to transport residents to doctor's appointments, the Social Security office, job interviews and take kids to school. Now, due to our community partner's generosity we are able to resume this service and safely transport our residents in style. Brandon Tomes Subaru has been a Great supporter of the Samaritan Inn for the last 7 years. Over the years Brandon Tomes Subaru has presented The Inn with checks totaling over $200,000.00. This is yet another wonderful donation. Thank you, Brandon Tomes Subaru for helping The Samaritan Inn carry the load of supporting our vulnerable neighbors during a time of need.
---
Brandon Tomes Subaru supplies the homeless! - Hannah C
The Streetside Showers team is thrilled that Brandon Tomes Subaru donated hygiene supplies so we can continue helping the homeless of our city! In September, the General Manager of Brandon Tomes Subaru, W.E. Fowler, reached out to us asking how they could get involved in our organization. They asked if there were any products we needed for our shower service that they could gather on our behalf. Little did we know that less than two months later they would have boxes and boxes of products to donate! We almost had to take two trips to fit all of the donations that Brandon Tomes Subaru so graciously donated. Every product that was donated will go to promote cleanliness and dignity for our homeless population in North Texas. Our operation was founded on the principle of helping those in need and we are blessed that Brandon Tomes Subaru came along side of us to help spread hope to the most vulnerable in our community. Streetside Showers is a mobile-shower service based in McKinney, TX which provides hot showers, clean undergarments, and hygiene kits to individuals experiencing homelessness in North Texas. Our mission is "to offer hope and help restore human dignity to the homeless community in the form of a hot shower and personal hygiene care." We are dedicated to providing basic human needs, restoring human dignity, and improving the quality of life for our unhoused neighbors. Streetside Showers has been operating for over three years and we have provided over 10,000 showers to the homeless of our community. Currently, we service nearly 175 people every week across 8 different cities. In addition to providing a space for people to get clean, we also hand out hygiene kits, socks, underwear and other essentials that our guests might need. Brandon Tomes Subaru so generously stocked us with hygiene supplies such as: soap, foot powder, feminine products, razors, socks, and much more. Brandon Tomes Subaru did not just stop at hygiene supplies, they also donated blankets! Winters in Texas are not friendly to our unhoused neighbors, so winter apparel and protection is vital to the safety and health of all members of our community. Brandon Tomes Subaru, the Streetside Showers team along with all the unhoused of North Texas want to thank you for your company's dedication to help provide supplies that will contribute to the health and wellness of all members of our community.
---
30 Random Acts of LOVE! - Wilson F
As the general manager of Brandon Tomes Subaru, I have been fortunate enough to be a part of several initiatives that help bring Subaru's Love Promise into our community. Each drive we did, we found a specific group that had a very specific need. This time, we wanted to find a way to reach a wider range of people in our community. These are incredibly challenging times, and so many people have been affected by this pandemic. After much thought, the BTS team decided to focus September 2020's Love Promise Initiative on the essential workers of McKinney with "30 Random Acts of Kindness and Love." Each day, a BTS team member delivered a random act of kindness and love. Lunches were delivered to the ER staff at Baylor Hospital, the 3rd grade teachers at Caldwell Elementary, the kindergarten teachers at McClure Elementary, a group of 20 "911" operators at the McKinney Police Department, as well as many others. Breakfast was served to day-laborers while they waited for a job. We delivered a month's worth of after school snacks to the Boys and Girls Club, Starbucks workers received gift cards, dessert trays and pies were delivered to the Northbrook Retirement Home. These are just a few examples of the 30 random acts our team delivered throughout the month. With each delivery, I saw the genuine look of disbelief and gratitude in their eyes that they were thought of and appreciated. The "30 Random Acts of Love" was a humbling experience and genuinely heartwarming. We may have left with more love received than given. I am proud of each member of the Brandon Tomes Subaru Team for their continued dedication to giving back to our community
---
50,000 Diapers Collected - 1,100 Families Helped - Helen H
I am the Executive Director and Founder of Baby Booties Diaper Bank a local non-profit serving under-resourced women and children in and around McKinney, Texas with diapers, infant formula, and hygiene products. In early June, W.E. Fowler, the G.M. of Brandon Tomes Subaru approached me about supporting our organization and mission with a month-long diaper drive in July. He mentioned his team at Brandon Tomes Subaru wanted to give back to our community and would love to focus their efforts on helping families and children in need. Well, of course, we would LOVE that! What a perfect partnership.1 in 3 families in McKinney struggled to provide diapers for their children before the pandemic. That meant our work to provide diapers, a basic need for families, not covered by any government assistance programs, during the pandemic was that much more critical. W.E. Fowler and Brandon Tomes Subaru understood that need and urgency and knew they could help. Prior to the pandemic, we were hosting 1 monthly event, passing out on average,10,000 diapers. As soon as the pandemic hit we began weekly distribution events and recently moved to bi-weekly. Since March 13th, in immediate emergency response, we have passed out 251,749 diapers to over 4,000 families. In our July events alone, we passed out 65,000 diapers (a 550% increase from pre-COVID months) to under-resourced families in our community. The Brandon Tomes Subaru team acknowledged how exponential the diaper need was and decided to step into action by launching a month-long diaper drive called "Operation Baby Bottoms". Their goal was to collect 50,000 diapers in the month of July. The plan was to donate diapers for every car sold, every oil change performed, and to match, one-for-one every in-kind diaper donation from customers, employees, or generous members of our community. Word quickly spread! By the 10th of July, their drive was in full swing and they had already collected over 13,000 diapers. The Brandon Tomes Subaru team was stacking diaper boxes right there on the showroom floor! We stopped by mid-month and couldn't believe what we saw! The showroom looked like a diaper warehouse, and all the amazing marketing and signage they had posted throughout the dealership, promoting the event to customers and employees, warmed our hearts beyond words. Our second July distribution was the largest turnout of any event we have held in our 7-year history. 500 families received assistance that day, and the 41,000 diapers that were distributed left us completely depleted of ALL SIZES, with no diapers for our next event. That's when we received the call from Mr. Fowler. He told us his diaper drive had been a huge success and he wanted to deliver the diapers to Baby Booties ASAP. The timing could not have been better! It was as if God had answered our prayers. The Brandon Tomes Subaru diaper drive had collected " 56,160 " diapers! When we arrived to the dealership for the presentation the entire BTS team pitched in to load and deliver the diapers to us. It was an amazing and heartwarming moment to experience. Our clients receive 50 diapers at each event, so this donation from Brandon Tomes Subaru will provide diapers for 1,123 North Texas families in need! We are beyond grateful to Mr. Fowler and the team at Brandon Tomes Subaru for sharing their love, and resources to better the lives of so many in our community. Families that right now are facing hardships, uncertainty, financial crisis and feel scared and alone. Families being forced to choose between food and diapers; paying bills or buying diapers. But for today, these diapers donated by Brandon Tomes will provide these families with hope and let them know they are seen and loved by their community. Thank you. Helen Hutton Executive Director Baby Booties Diaper Bank
---
Brandon Tomes Subaru's Scholarship Program - Tonia E
Dear Brandon Tomes, I would like to express my sincere gratitude to you for choosing our son Logan as one of the many recipients to receive a generous $1,000.00 scholarship. Donors like you and Brandon Tomes Subaru make it possible for students to take the next step in their education and to pursue their dreams. Logan is definitely excited to begin his next chapter at The University of North Texas this fall. Your scholarship program of giving the high school senior sons and daughters of all Brandon Tomes Subaru employees a scholarship goes hand in hand with the many other community outreach projects that you promote. I am so proud to say that my husband works for such a Great company. Many Thanks, Tonia Elder
---
Plant a Tree for Me! - Arlene F
A couple of weeks ago I went to my local Subaru dealer, Brandon Tomes Subaru.The sales rep that greeted me told me "We are celebrating Earth Week and if you buy a car this week we will plant a tree in a national forest in your honor". Next he handed me a flyer about Earth Day a package of vegetable seeds and a package of flower seeds. The buying experience was great and I got the new Subaru of my dreams. Yesterday I received a wonderful card in the mail. The card said "In Celebration of EARTH DAY, and as a Living Tribute Brandon Tomes Subaru Planted a Tree in our National Forest in your Honor". What a wonderful way to show their customers and their community that they want to help preserve our Earth. Thank you Brandon Tomes Team, I planted my flower seeds today.
---
In Uncertain Times - Jason and Stacey H
My husband and I were in the market for a new car. It was Spring Break in our area. We walked into a competing dealer and walked away very disappointed. We decided to try Subaru, who works with the local school district to give teachers a discount on purchasing new cars. This is a huge plus considering I do teach for the local district. We were not disappointed! My husband and I both walked away with a new car. Two new cars in our family!! Then COVID-19 hit in the next couple of days. The school district closed, and we were all asked to stay home. My husband was anxious about his job and where that would leave him. He and his coworkers were told to work from home until June 1st. What about the new cars?! What about the payments now that we aren't sure about his job?? After losing a few nights of sleep, he called the dealership and explained our situation. They took the car back and returned his car we had used for a trade in!! They were very understanding! We will be going back once this whole ordeal is over to purchase him a new car!
---
"Warm Hearts, Warm Feet Sock Drive Challenge" - Tressie J
Last year, after learning the Collin County Children's Advocacy Center was in a dire need of shoes, Brandon Tomes Subaru made a goal to collect more than 1,000 pairs of new shoes. With help from the community, 1,016 pairs of shoes were donated. This year, Brandon Tomes Subaru decided to keep the tradition going and find a new organization in need. After some research, they were surprised to discover that the number one need of homeless shelters is socks. The "Warm Hearts, Warm Feet Sock Drive Challenge" was quickly set into place. The Subaru team set a goal to collect 10,000 pairs of new socks during the month of February to be donated to multiple homeless shelters across North Texas. In order to reach the goal, Brandon Tomes Subaru would donate 25 pairs of socks for every car sold, 10 pairs for every oil change, and would also match all individual donations brought in throughout the month of February. Word of the sock drive quickly spread, and within 10 days, 4,000 pairs of socks were already stacked in the showroom. The support from the community was overwhelming! Socks continued to pour in throughout the month. By February 29th, the total count was 10,784 pairs of new socks! The Samaritan Inn, Collin County's only homeless shelter, was the lucky recipient of several thousand pairs of these socks. Brandon Tomes Subaru has been involved with the Samaritan Inn for several years. They have donated well over $150,000.00 to the Inn and countless community service hours helping our residents, so when they ask if we needed socks it was no surprise that BTS wanted to share more "Love" to our community. These socks will be greatly appreciated by all our residents. We are lucky to have such a wonderful organization with such a giving spirit in our city!
---
ManeGait welcomes Brandon Tomes Subaru Volunteers - Will E
ManeGait Therapeutic Horsemanship Center is a program where children and adults with disabilities move beyond their boundaries through the healing power of the horse and the direction of a professional, caring community. Riding a horse provides a multi-dimensional movement pattern similar to the human gait. This motion influences the rider's body leading to increased flexibility, core strength, motor skills and intellectual functioning. Horseback riding is an exciting and rewarding sport, and ManeGait provides a fun, enriching, and supportive environment for the riders to reach their potential. These lessons are taught by certified riding instructors with the assistance of volunteer aids. Team members of Brandon Tomes Subaru have volunteered many hours as riding aids to help these members of our community that so desperately need our help. The ManeGait program requires hundreds of volunteer hours each month and we are very grateful to the BTS team for helping ManeGait make a difference in the lives of these children.
---
Finch Elementary Loves Brandon Tomes Subaru - Kelly W
On August 29th Finch Elementary received a special surprise for all of our students! Brandon Tomes Subaru delivered school supplies and books to help all of our students. We are a Title 1 school here in McKinney and can make use of every item that was donated. We were told the outreach came from customers and employees of Brandon Tomes Subaru. Thank you to all that donated, Finch Elementary is grateful for the outpour of support from our community.
---
Brandon Tomes Subaru Blanket Delivery 2019 - Renita S
The Leukemia and Lymphoma Society of North Texas had the amazing pleasure to partner together with Brandon Tomes Subaru on June 19 for their Subaru Loves to Care Program. As one of 8 neighborhood retailers, Brandon Tomes delivered 80 blankets and 30 arts and crafts kits to Cancer Center Associates of McKinney, while also conveying hope, warmth, and uplifting words of encouragement to those currently being treated and battling for their lives. Each blanket came along with a personal note of hope written by the customers and staff of Brandon Tomes that the patients absolutely loved reading. The Subaru staff personally handed out these blankets and chatted for a few minutes getting to know each patient. A new connection was made as this was LLS and Brandon Tomes first time delivering to Cancer Center Associates of McKinney. We hope to work together to donate to the center again next year! The Leukemia and Lymphoma Society of North Texas is beyond appreciative for the kindness and commitment of Brandon Tomes Subaru not only for our mission but also to those in our local community. Seeing the joy on patients' faces as the blankets were personally delivered was extremely rewarding and heartwarming. We are honored to collaborate with an organization that offers back to the absolute most meriting individuals and carries light to the darkness of a cancer diagnosis.
---
Brandon Tomes Subaru, Loves to Care! - Wilson F
Since 2015, Subaru Of America and Brandon Tomes Subaru have partnered with the Leukemia & Lymphoma Society (LLS) to donate over 105,000 blankets and 12,000 arts & crafts kits to hospitals and cancer treatment centers across the country. This year the Brandon Tomes Subaru team delivered blankets and craft kits to the "Cancer Center Associates of McKinney" where hundreds of patients from McKinney and the surrounding area are treated every month. These blankets are a messages of hope from Subaru, Brandon Tomes Subaru and our customers to cancer patients in our local community.
---
"Share A Pair" Shoes For Kids! - Lori G
Children's Advocacy Center of Collin County (CACCC) provides safety, healing and justice for children victimized by abuse and neglect in Collin County. Achieving this requires a multi-disciplinary team approach; under one roof we house law enforcement, Child Protective Services, forensic interviewers, therapists, and family advocates. With more than 225 professionals under one roof, CACCC offers therapy and support services, free of charge, for children and non-offending family members, for as long as they are needed. No child is ever turned away. Children removed from their homes due to abuse and neglect often leave with nothing but the clothes on their back. Caregivers may struggle to meet the unexpected needs of a child in crisis. CACCC and Brandon Tomes Subaru of McKinney partnered in May 2019, to provide hope and a new start, one step at a time, to children victimized by abuse. Through their "Share A Pair" Shoe Drive, the Brandon Tomes Subaru team in McKinney and its customers donated "1,016" pairs of new shoes for CACCC's Rainbow Room. The Rainbow Room meets the emergency needs of children and families by providing immediate access to brand new clothing, shoes and hygiene products all completely free of charge. When life is dramatically upside down, something as small as a new pair of shoes can communicate to a child "You Matter." Thanks to the caring Brandon Tomes Subaru community, over 1,000 children will benefit this summer from their generosity. For many of these children, this pair of shoes may be the only pair of shoes they own, and on behalf of these deserving children, we thank you from the bottom of our hearts.
---
TV news station does story on Food Pantry... - Will F
Brandon Tomes Subaru was excited to host the Channel 8 News Team. Sean Giggy, WFAA's top community reporter, visited with the team at Brandon Tomes Subaru to learn more about how the Free Food Pantry works. Sean was impressed to learn about the local partnerships Brandon Tomes had in the community. Brandon Tomes Subaru sales associates spend time volunteering at McKinney's homeless shelter, "The Samaritan Inn," and they serve food at "Meals on Wheels." This really impressed Sean and negated active stereotypes of car dealers and car salesmen that he adopted over the years. Mr. Giggy decided to return with a TV Crew to film a news story on our Food Pantry, and our challenge to the other 600 Subaru retailers to create their own. The entire Brandon Tomes Subaru organization takes pride in supporting and promoting our Love Promise Free Food pantry. This is not a seasonal act of giving, but a commitment to give back all year long.
---
Donations to-Collin County Animal Services-Shelter - Edgar W
The team at Brandon Tomes Subaru collected "2" carloads of pet supplies during Subaru's "Subaru Loves Pets" campaign. The BTS associates and the generous BTS customers donated dog and cat food, blankets, pet treats, pet plays toys, feeding and water bowls, and many other items that our county shelter never has enough of. Brandon and Bob Tomes along with W.E. Fowler presented the supplies to very grateful shelter staff. This is the 7th year that Brandon Tomes Subaru has collected items to support the pets of Mckinney and Collin County.
---
B.T.S. Supports WOUNDED WARRIORS FAMILY SUPPORT! - Wilson F
The team at Brandon Tomes Subaru supports the "Wounded Warriors Family Support" team as they cross the country raising money that will support families of wounded U.S. veterans. One of BTS's customers is driving this new pickup cross country and he will present that new vehicle to a well deserving Vet. The BTS teammates autographed the truck as well as donated to this great cause!
---
Brandon Tomes Subaru Gives Back Again..... - Will F
Brandon Tomes Subaru teamed up with Subaru of America and the Leukemia & Lymphoma Society of North Texas to share some love to the patients at Baylor Medical Center in McKinney, Texas. Brandon Tomes Subaru delivered "80" Warm blankets, arts and craft kits and cargo bags to help the McKinney patients and their families that are battling cancer.This is the fourth year Brandon Tomes has donated these blankets. Baylor Medical Center and the Leukemia & Lymphoma Society of North Texas are beyond grateful for the generosity and commitment of Brandon Tomes Subaru. It is wonderful to have local businesses that give back to their community. Many THANKS to the entire team at Brandon Tomes Subaru! Will
---
Free Food Pantry At A Car Dealership?? - Janie L
Last month I was shopping for a new car. I am a single woman and I was looking for a new car that made me feel safe. I did my homework online and decided that I wanted to look at a new Subaru Forester. I went to my hometown Subaru dealer, Brandon Tomes Subaru in McKinney Texas. Everyone at the dealership from the Sales Associate to the Finance Manager were great to work with! I found the Forester that I liked, test drove it and purchased it the same day. This is probably not an unusual story for Brandon Tomes and his team. The reason for my letter is, when I was coming back to the dealership from my test drive I spotted a cabinet with a sign on it next to the street. The standalone cabinet was full of food. The sign said "Brandon Tomes Subaru Love Promise FREE Food Pantry. Take what you need." I asked my salesman what it was and he told me that the Brandon Tomes Team built the food pantry about 8 or 9 months ago. I asked him who could take the food and his answer was, ANYONE! This warmed my heart. I have been a social worker for 30 years and this sold me on Brandon Tomes Subaru and on Subaru of America. Our community has a significant number of homeless people and I have spread the word about this free food pantry. When I was doing research on which car to buy I was very impressed with Subaru's commitment to the earth, community and to giving back. I read Subaru's Love Promise on their website and I saw that same Promise displayed at the dealership. It is clear to me that Brandon Tomes and his team are committed to giving back to our community. I have included a picture of my Sales Associate displaying the food pantry. He was a great sport. Thank you, Janie L.
---