The 2022 Subaru Love Promise Customer and Community Commitment Award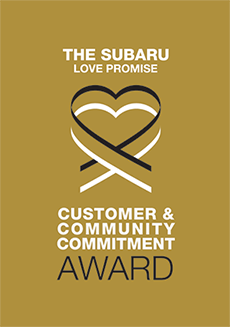 We've been nationally recognized for our dedication to our customers, our community, and the Subaru Love Promise.
We're honored to receive the 2022 Subaru Love Promise Customer and Community Commitment Award. This award nationally recognizes elite Subaru retailers who provide an exceptional customer experience at every interaction with Subaru. These retailers have also demonstrated an outstanding commitment to supporting passions and causes in their local communities in important areas such as the environment, community, health, education, and pets.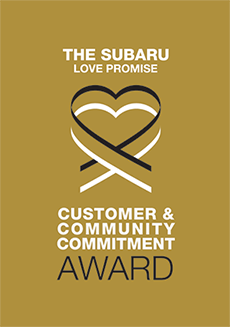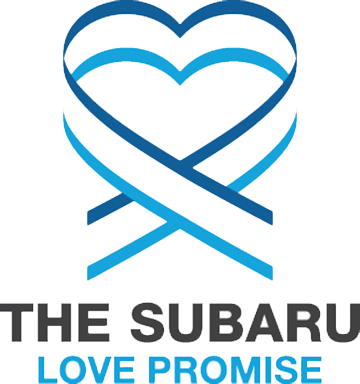 What is the Subaru Love Promise?
Subaru and our retailers believe in making the world a better place and the Subaru Love Promise is our vision of respecting all people. This is our commitment to show love and respect to our customers and to work to make a positive impact in the world.
How is Brandon Tomes Subaru dedicated locally to the Love Promise?
Our dealership is committed to serving and continuing to share the love by sponsoring and participating in local charities such as Meals on Wheels, pet adoptions, and other charitable events that we have the opportunity to be a part of.
ASPCA, Collin County Animal Shelter
Samaritan Inn, Meals On Wheels
ManeGait Therapeutic Horsemanship
Love Promise Stories from Brandon Tomes Subaru
Subaru and Brandon Tomes Subaru believe in making a positive impact on the communities in which we live and work. We uphold that belief through our Love Promise Community Commitment. Every month, we select inspiring stories from customers and partners from around our area who strive to support our collective commitment and feature them here
A Generous Donation! - Megan H
ManeGait Therapeutic Horsemanship wants to Share our Love for Brandon Tomes Subaru. Brandon and Stephanie Tomes just presented a $41,000.00 check to ManeGait. We are so very grateful to be one of their hometown charities, and are so blessed to have such caring community partners as the Tomes family and the wonderful team at Brandon Tomes Subaru. At ManeGait, children and adults with disabilities move beyond their boundaries through the healing power of the horse and the dedication of a professional and caring community. As a nonprofit organization, ManeGaite's stewardship, business leadership, and community support have become the foundation for our center's growth and longevity. We are committed to keeping the cost of equine therapy affordable for our rider families, therefore rider fees remain less than 15% of our operating budget. Individual donations contribute 70% of ManeGaits revenue needs. The donation from Brandon Tomes Subaru will provide riding scholarships to numerous riders and their families. Keep up the Great community outreach Brandon Tomes Subaru!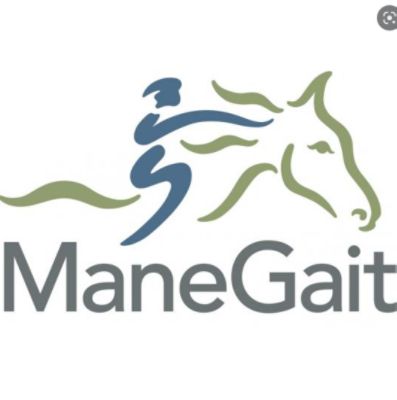 ---
In memory of my sister. - Carol B
My name is Carol and I have lived in McKinney, Texas most of my life. I'm currently driving the second Subaru I've owned and love the folks at Brandon Tomes Subaru. In all the times I've visited the dealership over the years, I hadn't paid much attention to the food pantry outside near the street. I remember seeing it thinking, "it's nice they're helping people in need" but never gave it much thought after that. However, Brandon Tomes's free food pantry holds much more meaning to me now after the passing of my younger sister Kay. She had some unfortunate turns leading to a period where she was homeless, and even though she was too proud to accept our help, she often mentioned getting by with the free food she received many times from Brandon Tomes Subaru's pantry. Now that she is no longer with us, I have started putting food into the pantry each week in the hopes of helping someone else's sister/brother/mother/father/child when they have no other options. Thank you to Brandon Tomes Subaru for helping my sister and all others who are in need of food.
---
Support for McKinney's Overnight Warming Station - Paul B
I am Paul Ballesteros Founder and President of "Emmanuel Labor". We are dedicated to removing the 'Lessness' from Homelessness! We provide, housing searches, job searches and preparation, ID & vital document replacement, mentorship and discipleship to the homeless of McKinney Texas. During the winter months Emmanuel Labor partners with the local Salvation Army to provide overnight shelter to the homeless when our weather is near of below freezing. Bedding, blankets, pillows, a hot meal, and much need hygiene supplies are provided, and my team oversees these activities. Last January Wilson Fowler from Brandon Tomes Subaru reached out to see if there were any needs, we had for our winter program. The result of that call was 30 new inflatable beds, blankets and pillows delivered to us the next day. This year Wilson called to ask what we needed for 2022's winter overnight housing program. Our current need was plastic storage boxes and lids. We house from 30 to 50 people each night and the bedding is stored in individual storage boxes which doubles as a place for our guest to store their personal belongings overnight. We also store other supplies in big, oversized storage bins. Our storage boxes and bins are several years old and need to be replaced. Like last year, the next day Brandon Tomes Subaru came to the rescue. They delivered 50 new plastic storage boxes with lids and 15 Hugh oversized H/D storage bins. What a blessing Brandon Tomes Subaru is to McKinney, Texas. Thank you, Brandon for your support to our community, it is unbelievable.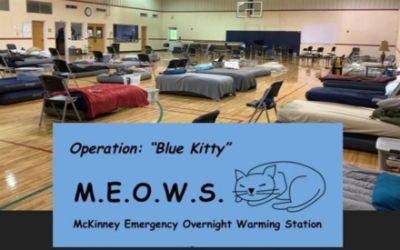 ---
A Wonderful Christmas Gift for The Samaritan Inn. - Tracy F
My name is Tracy Ferguson, and I am the Chief Development Officer for The Samaritan Inn, Collin County's only homeless shelter. We are a comprehensive homeless program that helps willing people gain dignity and independence. We support displaced people that have a desire to get back on their feet and be self-sufficient residents of Collin County again. A few weeks ago, W.E. Fowler from Brandon Tomes Subaru called me to schedule some dates for his employees to volunteer at the Inn during the month of December. While talking he asked how things were going and was there anything that the Inn needed before the end of the year. When he ask me that question, I remembered last December the van we used to transport our residents was involved in a traffic accident and was totaled. Brandon Tomes Subaru came to the rescue with the donation of a brand-new Subaru to fulfill our transportation needs. Such a blessing that was! With that in mind, I told W.E. about a big need that we had. Most of the residents at the Inn do not own a car or have transportation. The Inn decided to purchase bicycles for those residents and for their children. The bikes were very useful for our residents but the fact that our bicycles are all parked out of doors, the weather, wind and rain has taken its toll on the bikes. The staff member in charge of maintaining the bikes told us he was fighting a losing battle trying to keep the bikes in working order as long as they are parked outside. I told W.E. we really needed a bicycle storage shelter to protect the bikes. His reaction was, let me put a pencil to it and call you back. Well,4 weeks later The Samaritan Inn has a Wonderful all weather storage shelter for our over 50 bicycles! It was unbelievable, The Brandon Tomes Subaru team found a contractor, procured a building permit and had a construction date within 6 days. Less than 4 weeks from start to finish the project was completed. Today they presented us with a $12,000 check which more than paid for the entire project! Brandon Tomes Subaru has been one of our best supporters for over 12 years. It is because of organizations like Brandon Tomes Subaru that we can help those in need in our county. Thank you for All that you do!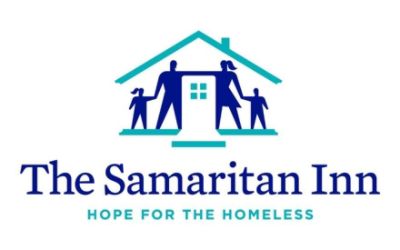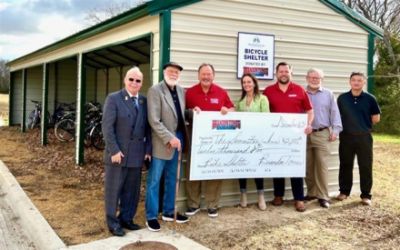 ---
Brandon Tomes Subaru Lovers the Homeless! - Lance O
I am the founder of Streetside Showers, a local non-profit serving those in need of a hot shower, personal hygiene care, a change of clothes and a meal. Our mission is to help restore human dignity to the homeless community in and around McKinney. Our trailer is equipped with bathrooms, toilets, showers, and we haul it all over North Texas, making seven stops per week. The storage unit for the trailer is really close to the Brandon Tomes Subaru dealership. W.E. Fowler, community outreach director of the dealership, was very curious about the trailer, so he asked me about our work and how his team could help. Ever since then, they've been a tremendous support. We also like to provide our guests with a meal at each of our stops. However, they really don't have a place to store groceries or cook food and Brandon Tomes Subaru immediately understood the need for prepared food. Volunteers from the dealership come out to serve meals and assist our guests with a shower service. Last year, Brandon Tomes Subaru kicked off a hygiene kit collection drive that was incredibly successful, and now that we are approaching winter, they really stepped up with a winter essentials collection drive. Throughout the month of October, they collected blankets, hats, gloves, socks – everything our guests need to help them stay warm. Even though 54% of our guests have a job, they're homeless and experiencing a tough time in their life. Many homeless people sleep in public places not meant for human habitation, and they don't have access to basic hygiene essentials. On a daily basis, we don't have a second thought about having the ability to wash our hands, take a shower, or brush our teeth. These are crucial activities that keep us healthy. Hygiene helps prevent serious health issues and gives homeless people dignity. With the help of the Brandon Tomes Subaru team, we recently reached a milestone of providing 16,000 showers. The Brandon Tomes Subaru team acknowledged the importance of the Streetside Showers mission and stepped into action by launching an annual month-long drive. As I said, last year was hygiene kits, and the campaign was called "Shower With Love." This year's collection drive of winter essentials was called "Loves To Help The Homeless." Both drives were promoted heavily, and there was amazing marketing and signage posted throughout the dealership, promoting the event to customers and employees. Brandon Tomes Subaru donated over $4,000 of blankets, socks, gloves and other winter essentials and customers were equally generous with their donations. I know the success of these events is directly attributed to Brandon Tomes Subaru's involvement in the community, and their clientele really responds when they are asked to help support a cause. They really know how to raise awareness. Every community in North Texas is struggling – people are losing their jobs and homes, and we are busy trying to help meet the needs of all these people on the street. The folks at Brandon Tomes Subaru get behind us with spreading the word about what we need to continue our mission. The need never stops, and all we can do is try to help more people every week, and we simply couldn't do it without the invaluable help given to Streetside Showers by our friends and partners at Brandon Tomes Subaru.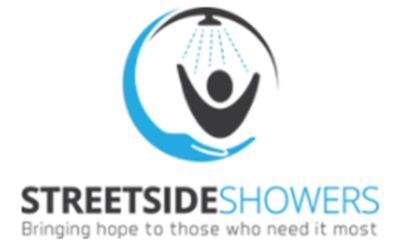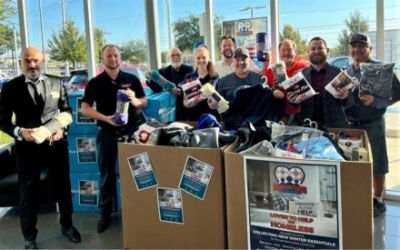 ---
Subaru Loves Pets – Collin County Animal Shelter - Sara J
Pepper was one of the many animals we were able to adopt out with the amazing support of Brandon Tomes Subaru. Pepper came to us as because her owner was elderly and was no longer able to care for her. She was 10 years old and 20 pounds overweight at 62 pounds. While she was with the shelter we put her on a diet and got her out to exercise as much as we could. In the 2 weeks she was here she had already lost 5 pounds so we knew a healthy life was possible for this very sweet girl. She never meet a stranger, animal or person and loved everyone. She was the perfect lap dog, whether you wanted her on your lap or not. She was adopted by a longtime supporter of the shelter, who had 2 other dogs at home that she also adopted from our shelter. We knew in her hands Pepper would have a great life.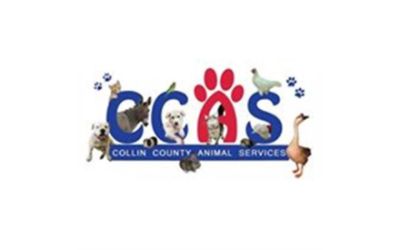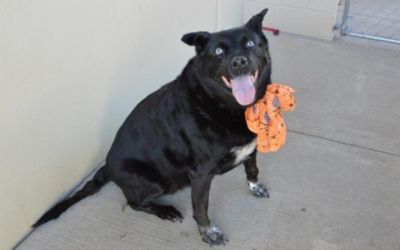 ---
"30" Random Acts of LOVE! - Danny L
My name is Danny Loya, and I've been a Lot Technician at Brandon Tomes Subaru for 2 years. I was lucky enough to participate in this year's "30 Random Acts of Love," an initiative to provide 30 Acts of LOVE for 30 days in September. Several Brandon Tomes Subaru employees went all over McKinney delivering lunches to essential workers for the entire month. We wanted to do something nice for people who help other people. My very first stop was delivering lunch for 15 volunteers at the Veterans Center of North Texas. Paul Hendricks, one of the volunteers that helps vets down on their luck, said he was amazed that we would think of them. That was just the beginning of meeting a bunch of really nice people. We went to Hope Free Clinic with meals for the doctors and volunteers. This is a clinic that helps patients who have no means to pay and no insurance. Melissa Willmarth, one of the volunteers, said she couldn't wait to dig in! Disabled vets like to hang out at the local VFW, post-2150. On the day we arrived with lunches, there were 30 veterans and Guy Green, VFW director, said everyone loved their meal, which turned out to be a very special day. We decided to turn the tables on the folks who deliver for Meals On Wheels! Peggy Click, a board member, was so grateful, and all 25 volunteers and staff really enjoyed the lunches we provided. The McKinney Police Department's "Neighborhood Patrol Unit" and the 911 operators had lunch on us on separate days. Greg Conley, McKinney Police Chief, sent Mr. Tomes a thank you letter saying our support was appreciated. There were so many more people that I had the privilege of meeting: Teressa Jimenez, director of CASA, an organization that advocates for children in the foster system, the folks at the local Salvation Army and the people in the Collin County Habitat for Humanity administrative offices. The joy these lunches brought people was kind of surprising to me. It didn't seem like what I was doing was all that important. But it turned out it really is the thought that counts. We repeatedly heard people expressing that what we were doing was so thoughtful, and people usually forget about the folks "behind the scenes." I don't think I've smiled as much as I did in September as I have in my whole life!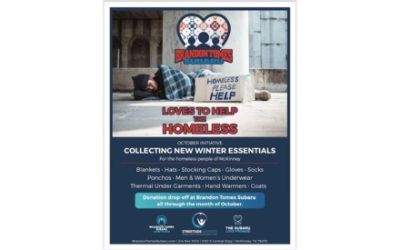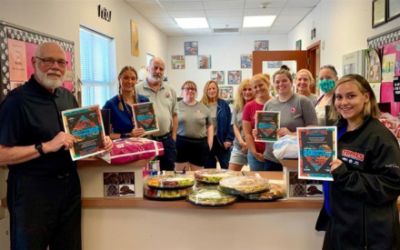 ---
Brandon Tomes Subaru Loves Learning & Teachers! - Amy M
I am a third-grade teacher at Caldwell Elementary School in McKinney, Texas. Last week, myself and nine other teachers were called into the conference room out of the blue, to find Brandon and Bob Tomes of Brandon Tomes Subaru waiting for us. To our surprise, they announced that Caldwell Elementary had been selected as a partner for this year's "Subaru Loves Learning" event and we had been chosen to receive $500 each towards purchasing supplies and teaching aids for our classrooms! I have been teaching for 12 years, and every year we all end up spending money out of our pockets to purchase extra classroom supplies needed to teach our students, so this was an especially welcome gift. In these challenging times, every penny counts to a teacher. Brandon Tomes added, "We asked Principal Massey what needs every Caldwell classroom has, so in addition to the $500(each) for you 10 teachers, we've purchased "40" new Heavy duty Pro style X-ACTO pencil sharpeners, "500" student earbud speakers, "100" cases of antibacterial hand wipes, and a character-building classroom curriculum that the entire school can utilize every day." We are anxious to start using the CharacterStrong training program. During the Pandemic, our students have been disconnected, neglected, and underserved. This curriculum teaches kindness, honesty, respect, empathy, and responsibility. I, along with the entire staff at Caldwell, am extremely grateful to Brandon Tomes Subaru for this VERY generous gift!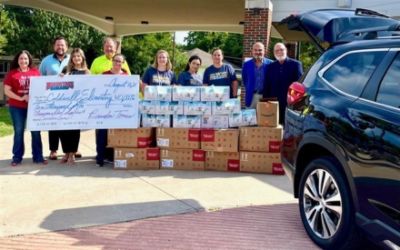 ---
Share a Pair Shoe Drive "700 Pairs in July" - Lori G
The mission of Foster Friends, a non-profit located in Collin County, is to help supplement the cost of raising foster children so that they may be able to experience the typical joys that other kids take for granted. Every August, the organization hosts an annual back-to-school shoe drive benefitting the Children's Advocacy Center of Collin County. CACCC ensures the shoes are distributed to local foster children. Sue Reeves, Foster Friends board member, reached out to Brandon Tomes Subaru of McKinney to see if they would be willing to co-host this year's drive. Ms. Reeves said that collecting 700 pairs of shoes would be a daunting task, but to her delight, W.E. Fowler, dealership GM, responded immediately with the decision to meet the challenge. "The Back-to-School Shoe Fair on July 31st was a resounding success! Thanks to their generous support, we delivered over 700 pairs of shoes to all our deserving children. On behalf of our kids and all those who serve to make the lives of those in our care happy and healthy, we thank you so very much, Brandon Tomes Subaru," Ms. Reeves said. The Children's Advocacy Center of Collin County has provided comprehensive services for children experiencing the trauma of abuse and neglect. They work with local officials, therapists, and family advocates to ensure children affected by abuse and neglect in Collin County have access to safety, healing, and justice. Lori Geer, CACCC's Vice President of Development, said that the organization provides these services at no cost to their clients for as long as they are in need. The only way they can truly impact the children's lives is through the help of partners like Brandon Tomes Subaru of McKinney. "The team from Brandon Tomes Subaru stepped up to the plate by offering to host a shoe drive in partnership with Foster Friends. On behalf of the children we serve, we're so grateful." Preparing for a new school year is always an exciting yet anxious time for children. This past year has brought an additional level of uncertainty to school children across Collin County. Dealing with a global pandemic on top of schoolwork is difficult for any child, especially those affected by abuse or neglect. The shoes they received may be the first new pair of shoes they have ever owned for many children. Brandon Tomes Subaru's accomplishment is one Great step towards creating a happy and healthy environment for the foster children of Collin County.
---
Free Food Giveaway: Share The food - TJ M
In McKinney, Texas, Brandon Tomes Subaru partnered with our organization, Community Lifeline Center, in distributing food to over 100 households on June 22, 2021. The North Texas Food Bank and the McKinney Police Department joined us at the dealership in the morning, and by that afternoon, over 9,000 pounds of food went out to families in need. This effort was a part of our continued commitment to supporting people in our local community in crisis. W.E. Fowler, Brandon Tomes Subaru's Community Outreach Director, informed me that this event was the second food giveaway they have done in less than a year. It is clear their passion for helping the community is sincere and it has not waned. There was a line of cars waiting when we began the contactless food distribution on Tuesday morning. 20 dealership volunteers, including Mr. Bob Tomes and his wife, Barbara, along with Brandon Tomes, served fresh, perishable, boxed meals from morning until noon. Also in attendance was Subaru of America regional employees and officers from the McKinney Police Department. Along with individual households, two truck-loads of food went to the Holy Family School, a preschool in McKinney, Texas, dedicated to providing a safe, loving environment for children of all backgrounds. The pandemic continues to recede; however, our neighbors are still in need. Recently, The North Texas Food Bank reported that the COVID-19 pandemic continues to impact hunger in North Texas. "Over the past year, food insecurity among North Texans has increased by 25 percent. This statistic reflects a significant rise in those seeking food assistance for the very first time – approximately 40 percent of those served by the organization since the start of the pandemic. Almost 900,000 North Texans now face immediate and sustained food insecurity. "Community Lifeline Center has helped individuals and families for over 30 years. Our purpose is to guide residents in crisis back to self-sufficiency and independence by providing resources, information, and referral services to McKinney and Collin County residents. Brandon Tomes Subaru's support is invaluable to our mission! Thank you once again for your generous contribution, and we look forward to continuing our partnership in the future.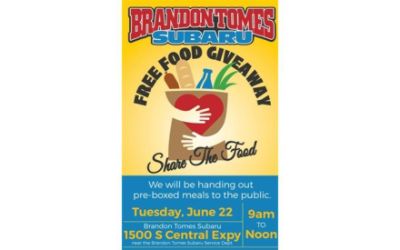 ---